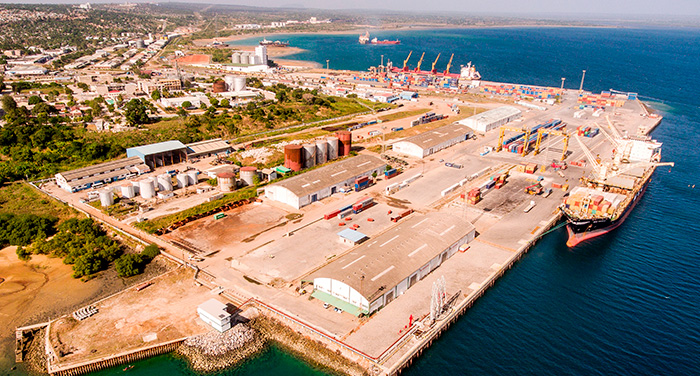 Teixeira Duarte signs agreement to build the Port Facilities in the Nacala Port, in Mozambique.
Consortium led by Teixeira Duarte signs agreement to build the Port Facilities in the Nacala Port, in Mozambique, with a contract value of 105.2 million euros.
The consortium led by the Society of the group Teixeira Duarte – Engineering and Constructions Mozambique, Lda. celebrated, on 15 September 2018, the contract of Subcontract with the Japanese consortium Penta-Ocean Construction Co., Ltd. and Toa Corporation Joint Venture for the execution of the contract named "Construction of Port Facilities for Nacala Port Development Project Phase I & II" for Caminhos de Ferro de Moçambique (Mozambique Railways). The contract has a term of 36 months and its predicted value amounts to $123.2 million, corresponding to €105.2 million, with Teixeira Duarte Group's subsidiary receiving 50% of this amount.
The work consists mainly of the construction works for a new 400-metre-long pier in reinforced concrete structure, dredging and landfills with materials from the dredging, a 1 kilometre access road, 8 hectares of concrete surfaces – in the container park –, the execution of electrical, telecommunication, water and sewage infrastructures, the construction of administrative buildings to support the operation of the Nacala Port and also the rehabilitation of the container rail terminal.
Grupo Teixeira Duarte started its activity in Mozambique in 1982 by participating in the tender for the repair of the bridge over the Zambezi River, in Tete. That was the first of many important works executed in the country, where Teixeira Duarte has been maintaining a prominent position, with special emphasis on public works, which have allowed the development of Mozambique, namely the school estate, the road links and bridges and, more recently, the large work for the Bank of Mozambique.
The consolidated position in the market has enabled the Group to diversify its activity to other business areas, currently also operating in the Concessions and Services, Real Estate and Hospitality sectors.